Meet Pumpkin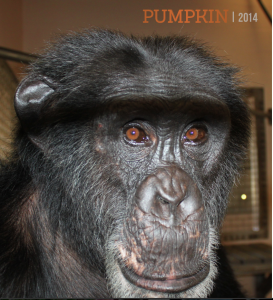 BIWF is proud to announce the adoption of our new family member, Pumpkin, who resides at "Save the Chimps" in Fort Pierce, FL. Pumpkin was born in 1986 in a now defunct laboratory known as LEMSIP, the Laboratory for Experimental Medicine and Surgery in Primates in New York State. He was allowed to stay with his mother, known only as "CH-136," for two years, after which for the next 8 years he was anesthetized with Ketamine 180 times and had his liver biopsied at least 23 times. When he was 5, he began self-mutilating, creating wounds on his abdomen, side, and legs. Just before he turned 10, he was sent to the Coulston Foundation, a research laboratory in New Mexico that had a poor record of animal care, where ironically his life improved a bit. He was even allowed to go outdoors for the first time in his life. However, he continued to self-mutilate.
Pumpkin (aka Mr. P), a Scorpio, is now 28 years old. "Save the Chimps" rescued him from the Coulson Foundation in 2002 at age 16. For a while, he continued to self-mutilate when stressed or bored, but thanks to the attentive care of his veterinarians and caregivers, he hasn't engaged in this behavior for some time.
Because of his years of confinement, Pumpkin had preferred to stay indoors, often with his longtime friend O'Dell. Occasionally he was spotted on the grass browsing for nuts and seeds but lately Pumpkin has been wandering outside more and more.  He loves basketballs (often carrying one wherever he goes) and wading pools and filling the wading pool with basketballs! He also loves peanuts and sunflower seeds. He is a fan of peanut butter and jelly sandwiches, which he loves to wash down with Gatorade! He is cautious and amiable, extremely handsome, and has a kind and gentle soul.
Save the Chimps is closed to the public except for two Member Days each year. Please consider visiting Pumpkin and all the other chimps at Save the Chimps on their upcoming Member Day on Sunday, February 28, 2015.
Two Turtle Heroines
by Denise Johnson
On the morning of Saturday, September 27, one very lucky turtle was saved through the efforts of two fabulous BallenIsles women.
"Pokey" had been hit by a car and was lying on East Island Avenue near the Military Trail gate. His first savior, resident and BIWF volunteer, Kerry Beren, saw the injured animal and immediately went to his aid. Pulling her car over to the side of the road, she picked the turtle up and moved him to safety in the grass. She then returned home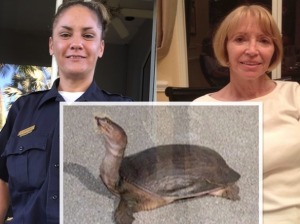 and retrieved a box, some towels and some water to soothe the turtle. Pokey's shell was shattered, and he was bleeding. It didn't look good for our boy!
However, Kerry believed that he deserved a chance at survival, so she brought Pokey to the Gatehouse where his second savior took over. Officer Dionne Ehrgood watched over the turtle until the end of her shift, and then she transported him to the Busch Wildlife Sanctuary for treatment.
At first it was touch and go for Pokey…his injuries were pretty extensive. However, thanks to the caring medical staff at Busch, Pokey is now fully recovered and has been released back into his familiar environment.
Kudos to Officer Ehrgood and to Kerry for their amazing compassion and commitment to the animals of BallenIsles.
Critter Couriers to the Rescue
by Jackie Fabisch
   Only a few days after three members of the BallenIsles Wildlife Foundation received rescue training at Busch Wildlife, the lessons we learned were put to the test. A member of the BIWF rescue committee was notified that an Egyptian goose had been spotted on the North golf course near the bag drop with extensive injuries to its legs. As one of the "Critter Couriers," I was asked to rescue and transport the goose to Busch Wildlife Sanctuary for treatment.
When I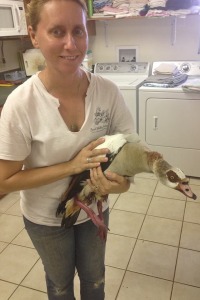 arrived at the bag drop with a box and towels in tow, John Sawyer, Director of Security, had already humanely captured the bird.  He had wrapped it in a "burrito blanket," which is a towel firmly swathed around its body.  We placed the goose in the box, and my husband and I delivered it into the competent and caring hands at the Busch Wildlife hospital.  They immediately put the goose on pain medication and antibiotics, hoping against hope that it would survive the night and thus have a chance to recover.
Unfortunately, despite the excellent care and humane treatment it was given, the Egyptian goose's injuries were too severe and it passed away during that night.  Instead of suffering a painful and agonizing death, the goose died without pain thanks to our efforts and those of the Busch Wildlife staff.
I'm proud to reside in BalllenIsles, a community that shows respect and caring for all living things.
"Tommy (the Mew) St James" – the St. James Neighborhood Cat

by Leslie Fagenson, Diane Mittenthal, and Gerry Chernow
On Halloween, 2013, BallenIsles and St. James resident Diane Mittenthal discovered a handsome but thin black cat sitting in her driveway. Not being a cat person at the time, she was pretty spooked! A little later in the evening she saw the cat sitting on the roof of her neighbor's house across the street – with a vision of a full moon in the background, a really spooky thing to see, especially for a non cat lover!.
Diane contacted Mona Roberts, the BallenIsles resident cat rescue expert. Mona trapped the cat and had him checked out health-wise, vaccinated against cat diseases, given a rabies shot, and neutered by a local veterinarian. The vet also clipped his left ear (the international sign of a neutered feral cat). After he recovered, Mona released him back into the neighborhood.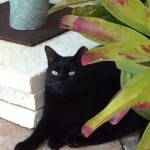 Another St. James neighbor, Gerry, took a liking to this cat and began feeding him. Diane and Gerry named him Tommy as an affectionate derivative for a wild male "tomcat". Unfortunately, Gerry's dog kept eating Tommy's food so he couldn't continue the feeding. He then asked neighbor Leslie Fagenson if she would feed the cat. Leslie, an animal lover with a husband (David Scherer) very allergic to animals, enthusiastically took on the task as long as Tommy remained outside, gave the cat a last name "St James," and the rest is history. "Tommy St. James" was originally a feral cat, able to breed and produce more feral cats, none of which allow any human approach or touch and most of which live difficult lives. Although still living outdoors, Tommy has become quite friendly and affectionate thanks to the wonderful neighbors who help to take care of him.
Interestingly, Tommy likes dogs, following along with several residents who walk their dogs, including and especially Diane who walks her dog around the neighborhood every day. It seems that Tommy has taken a strong liking to Diane's dog Roxie and vice-versa. Now they get together to play, and when Diane is outside walking Roxie, Tommy walks right along with them, occasionally grabbing the leash or putting his paw around Roxie. They often play like siblings. Needless to say, Diane has been touched by this heartwarming experience, and as a result, so have many of the neighbors in St. James.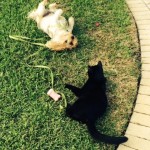 When it got cold, Gerry bought Tommy a heated "cat house" to protect him from the cold. At one time, Diane considered writing and illustrating a children's story featuring Tommy the Mew and his adventures—maybe she still will! Leslie and Diane share the caring for Tommy responsibilities and consider themselves co-owners for affectionate, handsome, and intelligent Tommy who can often be found on one of their front porches.
This very happy continuing story for what was once a truly feral cat demonstrates how human kindness can benefit both animals and humans alike. Tommy is now beloved by many St. James residents, especially but not exclusively Leslie, Diane, David and Gerry.
One Lucky Kitten
by Rosie Slocum, Director of Membership, BallenIsles Country Club
My story begins 17 years ago when I rescued two cats; a boy cat whom we named "Smokey" and a girl cat whose name was "Lucy." Ironically, both were found when only days old at the Country Club where I worked. Several girls who worked at the Club cared for the kittens and found them homes when they were old enough to take home. I ended up taking two of the kittens home. They quickly became part of my family, and both were with us for 17 years until they passed away last year in 2013 of old age and natural causes. My family was devastated upon their passing. It's amazing how animals become such a big part of your life and bring so much joy. I still miss them to this day. It was very difficult for my family and me to consider bringing in another cat to our home, so we waited. I made no plans to get another cat and instead made friends with several cats at the BallenIsles four-plex that I visited on a regular basis when I stopped to do work there.
On May 6, 2014, our Director of Marketing, Brian Merbler, forwarded an email to me that he received from the BallenIsles Wildlife Foundation with a photo of a litter of four beautiful black kittens that were rescued and being cared for by the BallenIsles Wildlife Foundation (BIWF). I went home that evening and mentioned it to my husband, who had been reluctant to foster any more kittens. He gave me the go ahead, and I immediately contacted Marianne Guerra to let her know that I was interested in taking one of the kittens. I met the litter of four at the home of their foster mom, Liza Sarinsky, Vice-President of BIWF, who was caring for them. I quickly became friends with Marianne who shared a love of animals and fond stories of our cats and dogs. I visited several times to get to know the kittens and picked out a girl and eventually took her home. My daughter Amanda adores cats (our Lucy was her baby) and was elated when I brought home a new kitten. Amanda picked out the name "Harley" because her purr was so loud and sounded like a motor.
Harley has quickly become a member of the family (it didn't take long) and has made her way into our hearts. She is definitely spoiled already, and we are having fun with her spunky kitten personality.
It's really hard to describe the joy an animal can bring to your life. The first thing I do when I walk in the door is call Harley and she comes running. I had forgotten how much happiness my cats have brought to me and my family over the years. I am also very happy that we rescued a kitten (once again) who was born in the wild and would have had a much different life. The BIWF deserve an abundance of recognition for their dedication to all the animals of BallenIsles. Their tireless efforts help preserve and control the balance of nature in the Community. I can't thank them enough for what they do on a daily basis and for bringing Harley into our lives.