Featured Pet
Meet Wiley
Wiley, Julie and Gary Widett's beloved cat, originally belonged to their daught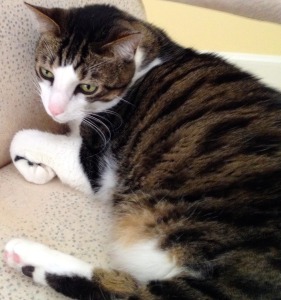 er Lauren. In 2005, when Wiley was two, he came to Florida to live with Julie and Gary. He quick-ly adapted to the South Florida lifestyle, chasing lizards around the lanai, lounging in the sun, and watching CNBC, activities he still enjoys. Wiley is a very social (and spoiled!) cat and always greets visitors at the Widett's front door.
Wiley's story began in 2003 when Lauren volunteered at the Cleveland Animal Shelter where volunteers walked dogs, fed the animals, and spent time with the kittens. One curious kitten delighted in bringing toys to Lauren. Soon she and the kitten were playing fetch. "Smitten with the kitten," Lauren adopted him, naming him Wiley (the shelter was on Wiley Ave.) Two years later, Lauren relocated and could not take Wiley. So Wiley took a vacation to BallenIsles to live with Julie and Gary. Loving the Florida warmth and sunshine, Wiley decided to stay. Although he still remembers Lauren, 11-year-old Wiley will live out his life in BallenIsles with Julie and Gary Widett as a happy, well-loved cat.
Meet Merry
Merry, a 5-month old Chocolate Chinese Shar-Pei, is co-owned by Linda Teitelbaum and a friend of hers, Deb Cooper of Nustar Show Dogs. Linda's kennel name is Ming Yu, which means renowned in Chinese. Merry is from two champion parents. Her dam is Ch. Kudzu and Shines Wearin The Ruby Slippers, aka "Ruby."  Her sire is Ch. Sh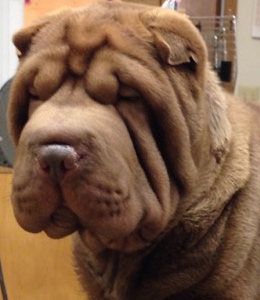 ines Star Kissed, aka " Smooch."   She is from a litter of 5, all named with a carnival theme.  Three of the puppies went to pet homes.  Merry (Merry Go Round) and her sister Tilta Whirl are in show homes. Linda and Deb chose Merry based on her show potential in the hope that she develops into a top show dog.
Merry has never met anyone she doesn't like. She makes a friend of everyone. She loves attention and is quite full of herself. When she is not getting the attention she feels she deserves, she will open her mouth and let you know–loud and clear!
The Chinese Shar-Pei dates back some two thousand years and originated in Kwangtung Province in China.  The breed became almost extinct, and at one time was listed in the Guinness Book of Records as the most rare breed in the world. The Shar Pei is known for its blue-black tongue, its wrinkled skin, and its rough short coat. The name "Shar-Pei" translates to "sand skin." They are highly intelligent and clean dogs and extremely devoted to family.   Deb and Linda presently co-own the number one Shar-Pei in the country. They hope that Merry will follow in her dog footsteps.
Meet Ariel
About three years ago, Joan and Richard Krim of Victoria Bay went looking online to find a Havanese breeder. They found one who had puppies available, so they drove to the west coast of Florida, where a fluffy 9-week-old female Havanese puppy "picked them" to be her human parents.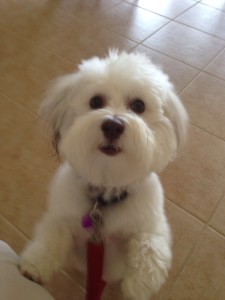 Joan's grandson wanted to name her Mason, but they ultimately agreed on the more feminine name Ariel. Joan describes Ariel as "the most adorable dog we have ever had, but we should have named her Trouble. Although she has had extensive training and is smart as a whip, she has a mind of her own and in particular loves to chew—on anything and everything!" She has pulled apart their daughter's golden retriever's toy, a stuffed lamb, so many times that finally it was beyond repair.
Shortly after they returned to New Jersey last May, Joan and Richard noticed that Ariel was not feeling well. They took her immediately to their veterinarian who diagnosed Ariel with early onset Lupus. She underwent chemotherapy to which she responded and was then put on steroids and an immunosuppressant. Luckily, her health is almost back to normal. To quote Joan, "We should all be aware of our dogs' habits so that we can get them to a vet before they get too ill."
It looks like Ariel will have many more years to be loved by Joan and Richard, their children, and their grandchildren and to love them unconditionally in return.
Meet Alice
Alice, a 7-year-old green and yellow female Amazon Yellow Nape parrot, has lived with her proud owners, Elena and Howard Scrappy Johnson of Victoria Bay, since she was a baby. When they purchased her from a breeder in Palm Beach Gardens, she was so young that they had to feed her by hand until she could eat on her own. Some of her favorite snacks are sunflower seeds and corn.
Alice is a very talented parrot. She sings soprano and has an extensive vocabulary. Some of her many words and phrases are "hello," "how are you," "what are you doing," and "run, run Molly" (the family dog). Alice loves to go to work with Elena and spends most of the day sitting on Elena's shoulder.
If Alice really likes someone, she spreads her wings to show off her beautiful colors. She usually goes to bed at 7 p.m. and sleeps on a special bird stand in the laundry room.
Elena feels strongly that "people are missing out in life if the don't get involved with animals. They give so much back to you."
Meet Gracie
Gracie is a Lynx Point Himalayan that will be 2 in June. One of her favorite habits is to meet us at the front door when we have been out. She is quick to roll over to have her tummy rubbed.
We are especially grateful for Gracie. When we got her from the breeder we were told that she was 2 months old. We took her home and discovered that she knew nothing about the kitty litter or how to eat her kitty food. Our vet examined her and determined that she was less than 1 pound and was at the most, 4 weeks old, and thus at great risk of not surviving. As you can tell from her picture, she has flourished and so have we.  We feel as if we literally saved her life, and our reward is the overwhelming joy she brings into our lives.