Welcome to BallenIsles Wildlife Foundation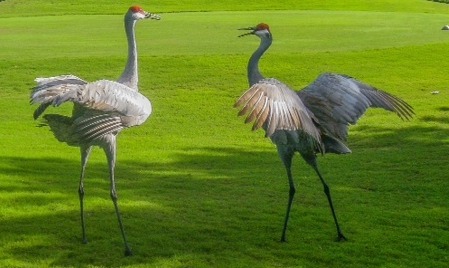 A male and female Sandhill Crane doing a mating dance on BallenIsles East golf course.
Photo by Mary Kirby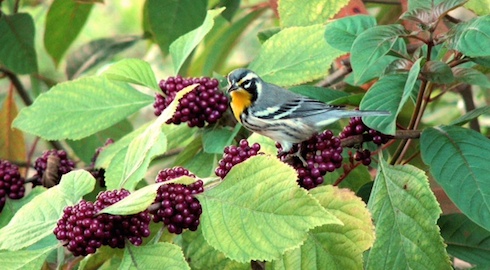 A native FL shrub, Beautyberry grows in sunny locations to 6 ft. tall by 5 ft. wide. Its flowers nourish bees in spring/summer, and its berries feed migratory birds like this warbler in fall/winter.
Photo by Peg Urban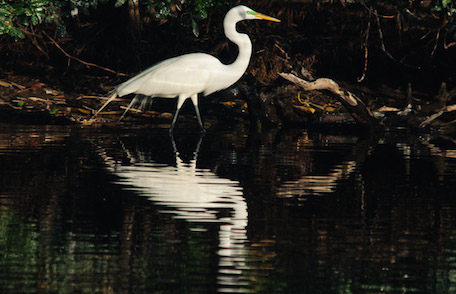 The elegant Great Egret, smaller and more svelte than a Great Blue Heron, still has a large wingspan. The male builds a platform from long sticks and twigs up to 100 ft. off the ground often over water, before pairing with a female. Then the pair usually collaborates to finish the 3 ft by 1 ft nest.
Photo by Tresa Marie Joseph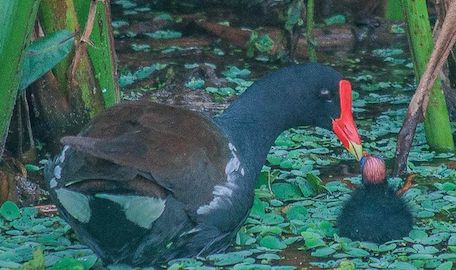 A Moorhen mom tending her baby. Moorhen dads are active participants in the parenting game.
Photo by Mary Kirby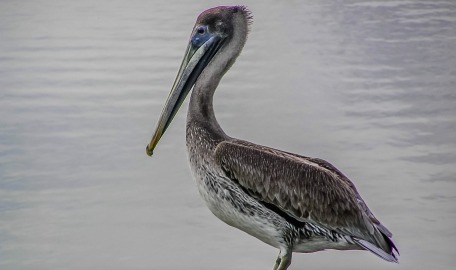 Pelicans are huge water birds with long flat bills and great throat pouches (flat when deflated). They fly in lines with their head hunched back on their shoulders and their long bill resting on their breast. They are buoyant swimmers and feed mostly on fish and small crustaceans.This white pelican was on the 14th hole of the south course.
Photo by Mary Kirby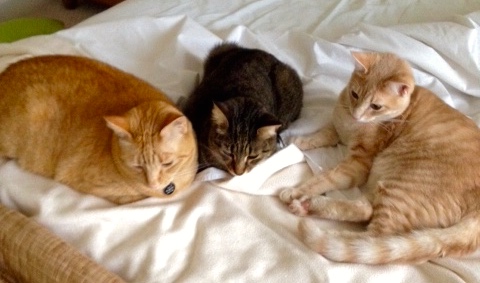 The Boys: Max (age 8), Louie (age 4), and Pete (age 1) chilling out on their owners' bed. Denise Johnson and Mike McMahon rescued them as kittens from Peggy Adams. All are indoor cats.
Photo by Denise Johnson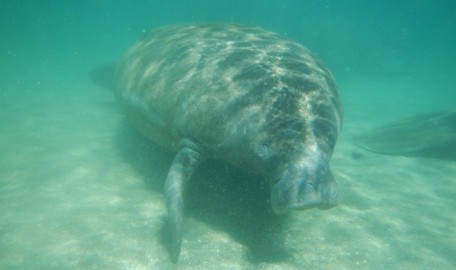 This manatee (AKA gentle giant) was photographed last winter in the intracoastal waterway of West Palm Beach, Florida. Manatees can experience stress and even death when water temperatures drop below 68 degrees.
Photo by Jim Bloom
---
Please Join Us!
HAVE YOU PROVIDED FOR YOUR PET'S CARE IF YOU
BECOME DISABLED OR PASS AWAY?
Too many beloved and pampered pets end up in shelters when the owner(s) can
no longer provide for their welfare.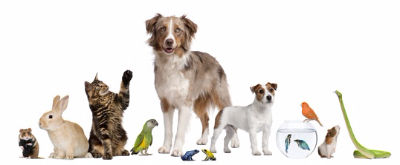 BallenIsles Wildlife Foundation Invites You to a Complimentary Lecture
and Q&A on Estate Planning Tips for Pet Owners
Presented by Catherine McDermott, a Wealth Planning Strategist at Wells Fargo Private Bank who specializes in planning techniques for pet owners, including pet trusts under Florida law, statutory pet trusts, and common provisions in wills and durable powers of attorney. She will also address other pet care planning options, the tax implications of a pet trust, and enforcement issues.The program is sponsored by the McCloskey Financial Group.
Date:  Saturday, April 1, 2017
Time: 2:00 p.m. to 3:00 p.m.
Location: BallenIsles Sports Complex Conference Room (2nd floor)
Space is limited; reservations are required on a first-come, first-served basis.