Welcome to BallenIsles Wildlife Foundation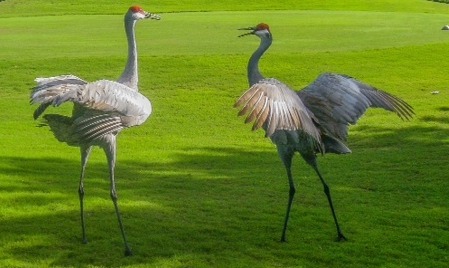 A male and female Sandhill Crane doing a mating dance on BallenIsles East golf course.
Photo by Mary Kirby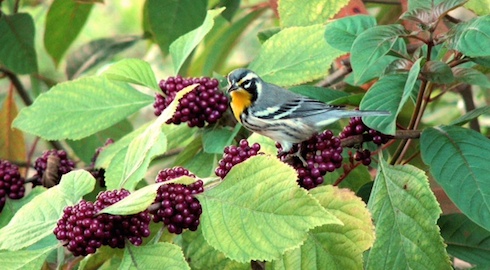 A native FL shrub, Beautyberry grows in sunny locations to 6 ft. tall by 5 ft. wide. Its flowers nourish bees in spring/summer, and its berries feed migratory birds like this warbler in fall/winter.
Photo by Peg Urban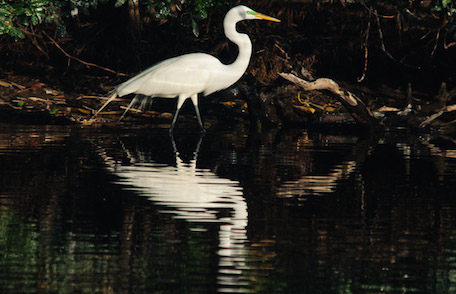 The elegant Great Egret, smaller and more svelte than a Great Blue Heron, still has a large wingspan. The male builds a platform from long sticks and twigs up to 100 ft. off the ground often over water, before pairing with a female. Then the pair usually collaborates to finish the 3 ft by 1 ft nest.
Photo by Tresa Marie Joseph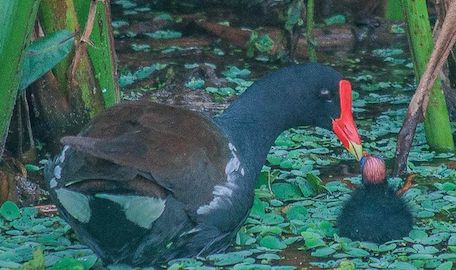 A Moorhen mom tending her baby. Moorhen dads are active participants in the parenting game.
Photo by Mary Kirby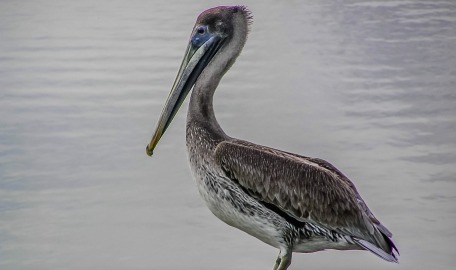 Pelicans are huge water birds with long flat bills and great throat pouches (flat when deflated). They fly in lines with their head hunched back on their shoulders and their long bill resting on their breast. They are buoyant swimmers and feed mostly on fish and small crustaceans.This white pelican was on the 14th hole of the south course.
Photo by Mary Kirby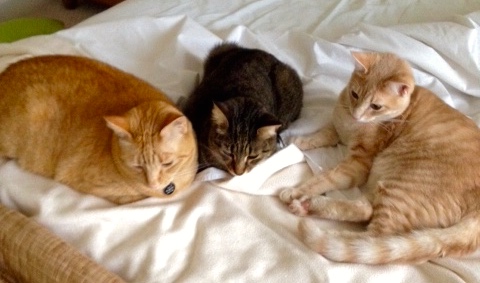 The Boys: Max (age 8), Louie (age 4), and Pete (age 1) chilling out on their owners' bed. Denise Johnson and Mike McMahon rescued them as kittens from Peggy Adams. All are indoor cats.
Photo by Denise Johnson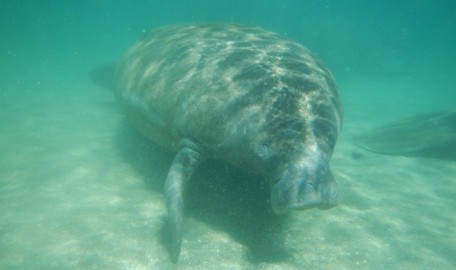 This manatee (AKA gentle giant) was photographed last winter in the intracoastal waterway of West Palm Beach, Florida. Manatees can experience stress and even death when water temperatures drop below 68 degrees.
Photo by Jim Bloom
---
Please Join Us!
Meet Our Avian Neighbors
The Purple Martins
Sunday, December 3rd, 2:00 pm – 3:00 pm
Sports Complex Conference Room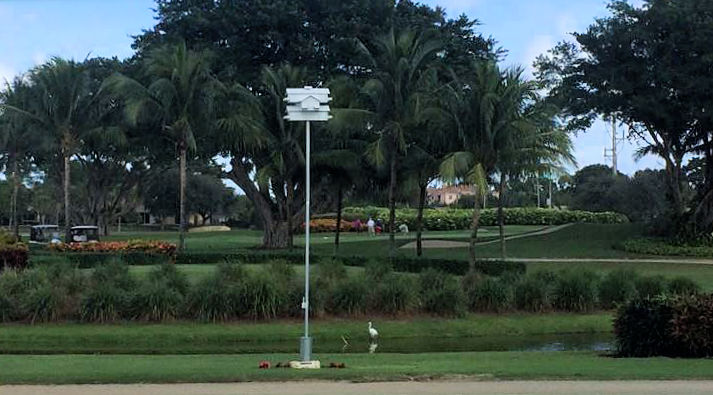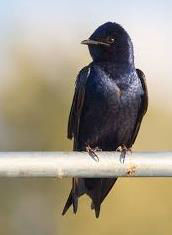 Please join us when Tim Whelan, owner of Art by Nature and Purple Martin expert, will tell us the fascinating life story of purple martins shortly before these beneficial and entertaining birds return to BallenIsles to nest and raise their young. Just like the sparrows who return to Capistrano, we, too, play host to an amazing annual return of our "snowbirds." When will the first Purple Martin return to its BallenIsles birdhouse? Answer this question correctly and you will receive a gift certificate to Art by Nature. Stay tuned for more information on how you can make your guess.
Space will be limited for this informative and educational program, so please mark your calendar and SAVE THE DATE. If you want to RSVP now, please send an email to info@ballenisleswildlifefoundation.org.